I'm thrilled to welcome of Top-toberfest guest blogger today. Lorene, of I am Just Lu, is going to share a fun

reverse appliqued top

. I love her choice of colors, and the best part of this top is that it was made using two tops that she already had in her drawers-

Wahoo

. Be sure to hop on over to her blog for the full tutorial. While you are there check out all of her other fun projects, informative articles, and tasty kitchen creations. She's as well rounded and talented as they come.

Hello Leafy Treetop Spot fans! I am Lorene, or Lu, and I blog over at

just Lu

about crafting and whatever else comes up in the course of being mommy to two adorable little ones and wife to an elementary school teacher.

Becoming the Housewife MacGyver

, for which Tricia has been my

honored guest

! We've had a lot of fun, and I hope you'll come

see what we've been learning.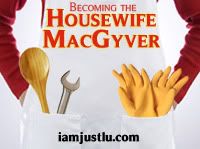 I love Toptoberfest so I am so thrilled to be participating this year as Tricia's guest. Without further ado, I now present to you...
The Dahlia Top
is a reverse-applique design using two knit fabrics, both old tshirts in this case. That might sound (or look) complicated, but it's really more a matter of patience than talent. Trust me -- there's not a particular abundance of patience around my house (especially that's left over for crafts... I figure my children need my patience more than my other creations ;), but there is definitely more patience than artistic or sewing talent. :)
This top was inspired by
this top on Etsy
. I am a big fan of buying and supporting handmade, but I knew that I could put together a similar top in colors that I really loved for a tiny fraction of the cost. Of the three tops I've made, two of them were free, using only old tshirts that I wasn't wearing anymore. You can't beat free!
So, come stop by my place for the full tutorial and template
-- and you can use the template for so much more than just a top! The same flower would look great on a skirt or a bag or anyplace else that you can think to put it, with any type of fabric -- or even paint! I've provided the template in several different sizes, or you can resize it to fit your projects needs.
See the full tutorial for the Dahlia top here on just Lu.
Thanks so much Lu for sharing your darling top with us. I can't wait to try out this technique.